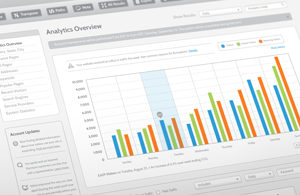 PPC Campaign Management – Why You Need a Campaign Manager
Pay Per Click (PPC) advertising can be an extremely effective online marketing technique to draw targeted traffic to your website. While some small business owners attempt to manage their own PPC campaigns, this strategy is prone to costly inefficiencies that can drain resources from your company. Here are 5 reasons why it's in your best interest to outsource your marketing campaign to a professional PPC management firm:
Improving your ROI 
Executing a successful PPC campaign is a skill that takes time to master. If you're under the impression that you can dive headfirst into PPC advertising and implement a profitable campaign, then you'll probably end up unpleasantly surprised with the results. PPC cannot be learned overnight, and the initial mistakes that you're bound to make while selecting and bidding on keywords can be costly. Instead of wasting money via trial and error, let a PPC campaign management team take control so that you see results from day one.   
Ongoing Optimization 
A successful PPC campaign requires the consistent attention of a dedicated PPC manager. It's ill-advised to try juggling a PPC campaign in conjunction with all of your other work responsibilities, since a PPC campaign requires ongoing optimization to be effective. Running a PPC campaign requires an investment of time that is best contributed by a PPC manager that is entirely focused on its success. For example, one of the primary responsibilities of a PPC campaign manager is to keep a close eye on all of your bids, ensuring that your marketing budget is being spent as effectively as possible. 
Staying Ahead of the Curve 
The world of online marketing is extremely fast-paced, and PPC advertising is no exception. Without being focused on the latest trends in PPC, it will be unfeasible to capitalize on the full potential of a marketing campaign. One of the key advantages of hiring a PPC campaign management team is that they'll be familiar with the most cutting edge techniques to maximize the impact of your budget. When it comes to outcompeting the marketing campaigns of your business rivals, the benefits of hiring a PPC manager are invaluable.  
Refining your Keywords
When businesses try to handle their PPC campaigns by keeping them in-house, usually the attitude is one where the campaign is allowed to run passively after it is launched. The problem with this approach is that the search queries which are most relevant to your site do not remain constant, and so keyword analysis must be an ongoing task. Realistically speaking, this is best achieved when it's under the close watch of a PPC campaign manager who has been trained to research profitable keywords. 
Freeing up Time
Most businesses are stressed for time and have limited resources to accomplish all of their work. Running a PPC campaign effectively requires a serious time commitment and should not be perceived as simply another task that needs to be checked off a list. In order to reap the full benefits of PPC advertising and ease up your schedule, let a PPC manager dedicate their full attention to your project.   
https://www.remedyone.com/wp-content/uploads/2013/04/analytics.png
195
300
Simon Hunter
https://www.remedyone.com/wp-content/uploads/2015/03/RemedyOne-Logo.png
Simon Hunter
2014-09-26 09:01:09
2014-09-26 22:57:10
PPC Campaign Management – Why You Need a Campaign Manager