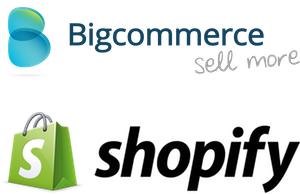 BigCommerce vs Shopify: Hosted Online Store Comparison
We've been building custom content management for e-commerce for over a decade. We have hundreds of satisfied clients selling online right now, but sometimes a new client will come to us to build their online store on a limited budget. They may be a new business, a startup, or just a small or micro-business operating out of their home or garage.
In the past we would have turned these clients away, but today we're announcing two easy and economical options for small businesses who need to get selling right now and don't mind some minor inconveniences.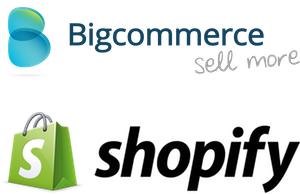 BigCommerce vs Shopify: Hosted Online Store Comparison
RemedyOne is now partners with BigCommerce and Shopify, two of the leading hosted e-commerce providers. Now these solutions aren't as full-featured as a custom online store, and more established businesses may lose a little credibility going with one of these off-the-shelf systems, but that said, if you're ready to start selling online and you're dealing with major budget restrictions, they're great choices.
Hosted Stores: The Basics
What are 'hosted online stores'? Put simply, these are pre-existing services, where you can use a pre-built framework to sell your products or services online without the hassle of building your site from scratch.
'Hosted' means the company is storing and providing the online store to your customers from their computers, as opposed to you setting up that stuff yourself. Again, you lose a bit of flexibility in order to gain a lot of simplicity.
Customization
In the BigCommerce vs Shopify fight, customization plays a large part. How easy is it to customize your store? Both provide theming options, but Shopify's themes are on the whole better, and you can view examples of them before you sign up (versus BigCommerce where you can't see them until after you've signed up).
BigCommerce has a built-in HTML and CSS editor for advanced customization, and Shopify uses a proprietary language called Liquid to build  their themes and templates.
We've found Shopify stores to be generally simpler to customize than BigCommerce, but not enough to make a huge difference.
Blogging
This one is pretty simple – BigCommerce currently doesn't have blogging functionality. So in this area Shopify wins hands-down. Here at RemedyOne we recommend blogging as a general rule for most companies and it is possible to work-around this limitation to set up a blog on a BigCommerce site, but for simplicity's sake, Shopify wins this round!
Cost
BigCommerce packages start at around $25 per month, whereas Shopify packages start at $29. There are many more pricing levels with BigCommerce than Shopify, and both seem to start getting really cool around the $80 / month mark, when they both add Abandoned Cart Recovery as a feature.
They both have free trials so you can play around and decide which works best for you before committing.
Plug-ins
Both have similar plugin and expansion potential, but one of the greatest advantages for Shopify in this regard is their Shopify POS product, which allows you to use your Shopify system as a back-end for your retail store, and use an iPad as a checkout system to ring up charges in a physical location.
BigCommerce currently doesn't have such an elegant solution for POS.
Conclusion
In the war of BigCommerce vs Shopify, there isn't really a clear winner as both offer a great product. If you are looking for a more modern look out of the box, with point-of-sale capabilities for your retail store, Shopify should be your choice. If you're looking for
https://www.remedyone.com/wp-content/uploads/2014/01/bigcommerce-vs-shopify.jpg
194
300
Simon Hunter
https://www.remedyone.com/wp-content/uploads/2015/03/RemedyOne-Logo.png
Simon Hunter
2014-01-22 19:28:21
2014-01-22 19:28:21
BigCommerce vs Shopify: Hosted Online Store Comparison